MESO Inc. is always looking to add qualified, hard-working members to our team. We employ driven, career-minded individuals in all aspects, either as a member of the support team or one of our highly skilled technicians performing maintenance and repairs of construction equipment, trucks, and trailer fleets with limited or no supervision in a highly skilled, safe, and professional manner.
Service technician applicants must own the tools applicable to the job, exhibit strong teamwork, verbal and written skills, have a valid driver's license, and high school diploma. MESO offers a competitive salary and benefits package and promotes a healthy work environment that allows our employees to grow professionally and personally.
Take a look through the available positions and send us your application today. Even if there are no jobs currently open, we will still gladly accept your resume and keep it on file for any future opportunities. MESO, Inc. provides equal employment opportunities (EEO) to all employees and applicants for employment without regard to race, color, religion, sex, national origin, age, disability or genetics. We also proudly employ our country's protected veterans.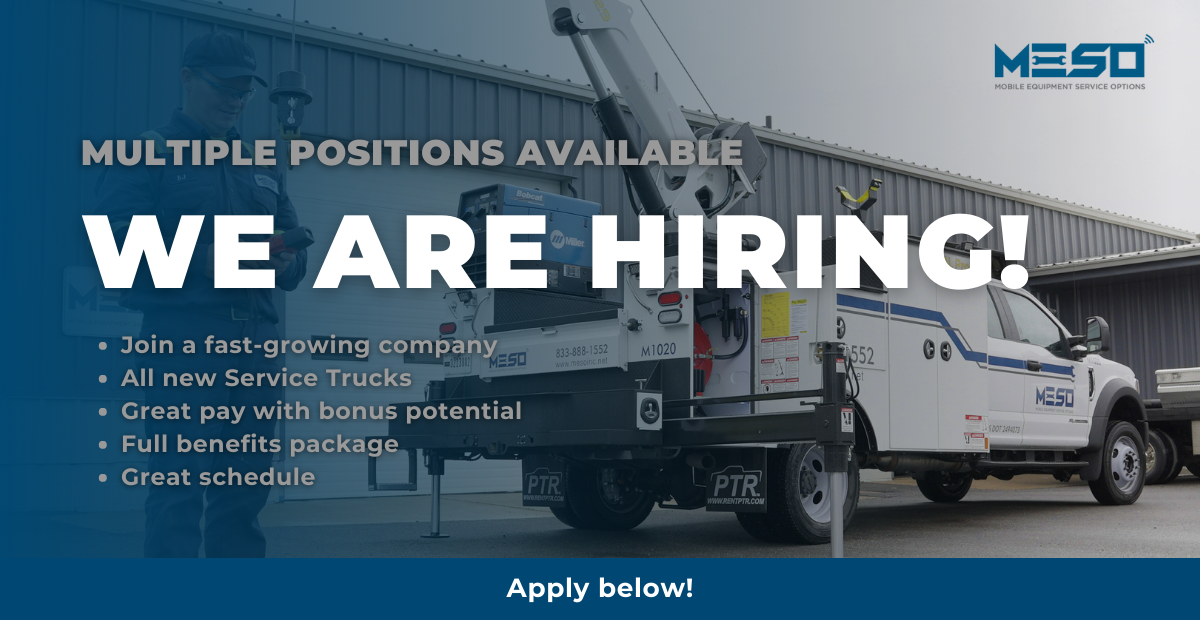 Equipment Mechanic / Technician (5 yrs. Exp Req.)
Cleveland, OH
Equipment Mechanic / Technician (5 yrs. Exp Req.)
Pittsburgh, PA
Equipment Mechanic / Technician (5 yrs. Exp Req.)
Nashville, TN
Equipment Mechanic / Technician (5 yrs. Exp Req.)
Indianapolis, IN
Equipment Mechanic / Technician (5 yrs. Exp Req.)
Dallas/Fort Worth, TX
Equipment Mechanic / Technician (5 yrs. Exp Req.)
Atlanta, GA
Parts Associate
East Liverpool, OH
Equipment Mechanic / Technician (5 yrs. Exp Req.)
Fort Lauderdale, FL
Equipment Mechanic / Technician (5 yrs. Exp Req.)
East Liverpool, OH
Diesel Truck Mechanic / Diesel Truck Technician / Fleet Mechanic
(5 yrs. Exp Req.)
East Liverpool, OH
Account Manager / Coordinator for Diesel Technician / Equipment Mechanic 
East Liverpool, OH